All creatures great and small
Florida has 760 species of wildlife that exist nowhere else in the world, and has the third largest population of wild birds in the US. Listed below are some of the more common creatures that you can find in Florida.
Reptiles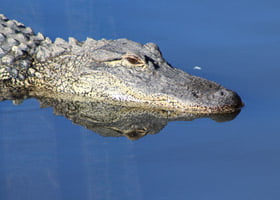 Alligators
The chances of seeing a live alligator on your holiday is very slim! Florida is the gator capital, so on the chances that you do come across the beasts, we would like you to be prepared! Male alligators can grow up to 19ft long and are found in freshwater swamps, lakes and rivers. By all means take a photograph from a safe distance, but do not approach, you can always visit Gatorland, or take an airboat ride to interact with the gators, safely! Do not feed, or attempt to feed wild alligators - it is illegal! As this teaches the animal to associate people with food, and can cause them to become aggressive. Signs are usually posted where alligators could be seen, do not swim in these areas or leave children unattended as a precaution. Alligators are an important part of Florida's ecology and may be found wherever there is a body of water. Alligators naturally fear humans, if left alone most alligators will move away, however if provoked, they will become aggressive and potentially lose that fear.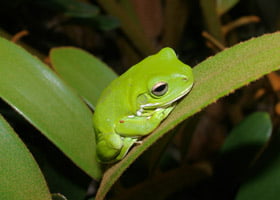 Frogs
Florida is home to over 50 species of frog and toad, most of these are species of tree frog. Florida has numerous lakes, and the water is the draw that keeps them here. There are three main kinds of amphibians in central Florida; pinewood tree frogs, squirrel tree frogs and green tree frogs. They are not social animals, so the likeliness of crossing frogs on your travels will be low, although you may hear their croaks in the evening, especially around lake areas on warm nights.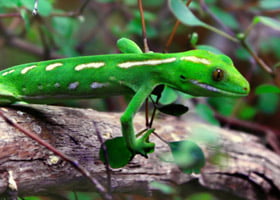 Lizards
Florida has several lizard species that are easy to find, the most common being the gecko, also known as house lizards due to them commonly found around buildings - if any of them manage to get inside your villa then carefully show them the door! Geckos vary in patterns and colours, and are among the most colourful lizards in the world. Some species can change colour, and may be lighter in colour at night. All lizards in Orlando are absolutely harmless and also keep the insects away!
Snakes
Florida is home to 45 species of snake, most of which are completely harmless. It is unlikely that you will see a snake, but remember, if you do, do not provoke or attempt to handle it in any way.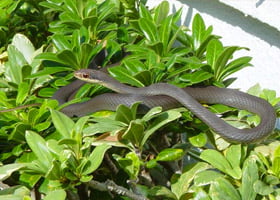 Southern Black Racer Non-Venomous
This is probably the most common snake in Florida and easily identifiable, being completely black with a white chin, and can range from 20 inches to 5ft with a slim body. Completely harmless it can be found in back yards and will usually flee if approached by a human unless it feels cornered, where it may try to bite.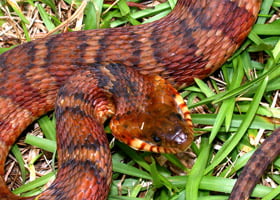 Florida Banded Water Snake Non-Venomous
One of the most common snakes in Florida. Can be mistaken for the venomous cottonmouth/water moccasin snake as they both live in rivers and lakes. They are usually distinguishable as previously mentioned, the cottonmouth floats when it swims and the water snake tends to have a much slimmer face and tends to have much kinder eyes than the moccasin, which has more cat-like eyes.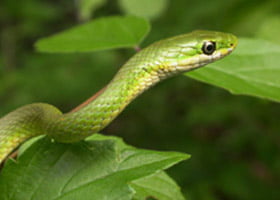 Florida Rough Green Snake Non-Venomous
Another common snake in Florida, extremely difficult to see due to it's bright green colouring and slim body, camouflaged in shrubs and trees, where it will be foraging for insects. The rough green snakes are non-aggressive and rarely bite.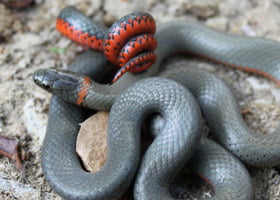 Ringneck Snake Non-Venomous
Named for the distinct yellow ring round their neck, and their all black body, the ringneck snake reaches only 10 inches long and are common throughout Florida. With a noticeable red belly, this snake looks venomous, however their bite is not harmful to people and are unlikely to approach humans.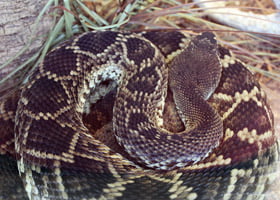 Diamondback Rattlesnake Venomous
Named for its distinct diamond shape pattern on their backs, the largest venomous snake in Florida. A green to dark brown colour with diamond markings, ranging up to 6ft with the distinct rattle on the end of their tail. Worthy of note, rattlesnakes do not always rattle and can strike from 3ft, so avoid at all costs!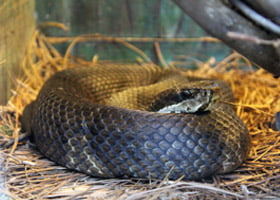 Cottonmouth/Water Moccasin Venomous
Gets its name from the whitish colour inside of its mouth, but it's unlikely you will ever see this! It has a dark grey-brown body with black cross bands and as its name suggests, it is found around swamps and lakes. Unlike other water snakes it floats when it swims, so it is easy to distinguish from other species.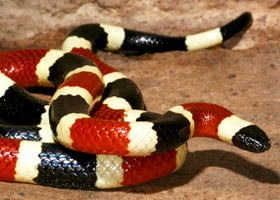 Coral Snake Venomous
This small, brightly coloured snake commonly reaches up to 30 inches long, with its distinct colouring of red, black and yellow rings throughout. Although its bite can be venomous this snake is particularly shy and secretive, and potentially will only bite when being handled, which can be fatal. These snakes should never be touched.
Insects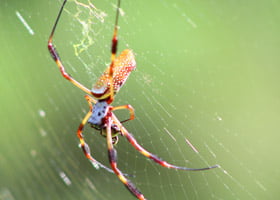 Spiders
It is said that their are about 900 species of spider in Florida! Most of which, you will be happy to know, live outdoors, away from our villas. There are a few venomous spiders that inhabit Florida, all of which belong to the widow family, it is extremely rare to encounter any, so do not panic! Although if bitten, you need to acquire immediate medical attention. You will likely encounter as many spiders in Florida as you would in the UK.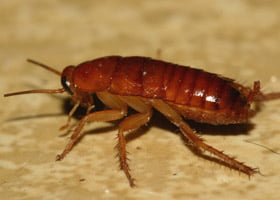 Palmetto bugs / Cockroaches
You may experience an occasional bug in your villa but don't worry, this is normal for a tropical region such as Florida. Palmetto bugs, a relative of the cockroach, are a common sight in this area but you will probably see more dead ones than live ones thanks to the monthly pest control that takes place in all of our villas. If you see any living palmetto bugs then honestly there is nothing to worry about, they don't bite, sting or carry nasty diseases – but by all means if you see many of them and they are a problem then report the matter to the local management company who will arrange a visit from a pest control expert. In all probability heavy rain has washed away the bug spray and it will just need reapplying. Leaving food or drinks out, even tiny crumbs, will certainly attract these bugs so make sure you keep the kitchen area spotlessly clean at all times, particularly when going to bed for the night.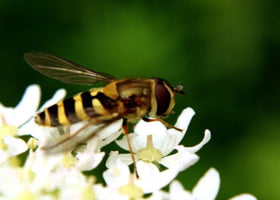 Wasps
Unfortunately Florida plays host to wasps in the warmer months. They are just as aggressive, and have a similar appearance as they have here in the UK. Wasps look for sugar, which means anything from fizzy drinks to ice-creams can attract these unwanted visitors, so if you spill anything, inside or outside your villa be sure to wash it away. If you see a wasp nest being built near the villa doors or windows then please report them to the local management company, who will arrange a visit from a pest control expert.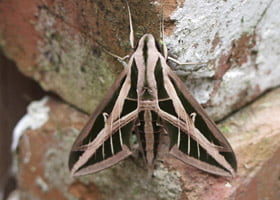 Moths
As in the UK, "butterflies of the night", are common in the spring and summer months, and are attracted to light, so keeping the curtains closed in the evening will prevent any visitors. Moths vary dramatically in appearance and size depending on the species, common indoor moths are smaller than 2cm and visit purely for feeding, so try and keep in the habit of cleaning up after cooking and preparing food.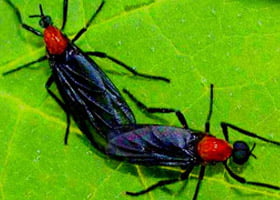 Lovebugs
Other common insects seen in Orlando are 'lovebugs', particularly in April/May and August/September. They are small, black flies that fly around attached in pairs, one male and one female. Lovebugs are absolutely harmless - they do not bite, sting, spread diseases, or eat trash. What they do though, is make your shiny rental car gunky and sticky, so it's a good job you don't have to return it in the state you picked it up! Most rest stops have windshield washing areas where you can clear their remains off the window!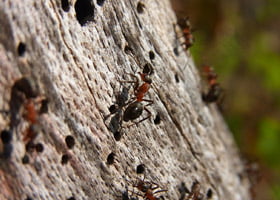 Fire Ants
The aggressive, reddish-black insects often build their mounded homes in gardens. Anyone who decides to sit on a Florida lawn may be in for a stinging surprise. If you do happen to be bitten by fire ants, apply a liberal amount of household vinegar to lessen the sting.
Birds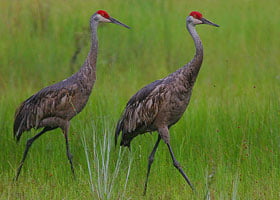 Sandhill Crane
One of Florida's largest birds reaching to 1.2m tall with a matching wing span. There are various species of crane birds, but generally speaking adults are a light grey in colour, with long legs, neck and beak, with a reddish skin on their crown. These birds migrate to Florida for the winter and can be found in large groups, however you may see them wandering aimlessly around your community, these birds are harmless and extremely docile, if approached will simply walk away.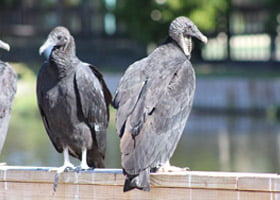 Turkey Vulture/Buzzard
One of the strangest birds you can see in this area, with a bright pinkish head, which resembles the head of a turkey, hence the name. The turkey vulture is a highly distinctive ugly-looking bird. These scavengers love nothing better than ripping open garbage bags on collection day. The vulture is usually soaring above the ground, searching for food, using its excellent eyesight and excellent sense of smell. These birds play a vital role in the environment by removing animal debris that could cause the spread of disease.
Mammals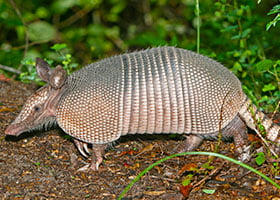 Armadillos
These odd-looking mammals are a common wildlife pest in Orlando. Armadillos spend most of the time underground and dig burrows for their homes or to escape predators. Their mindless burrowing can damage people's gardens and flower beds. However, they are harmless creatures and you are more likely to spot them in the evenings or during daylight in cooler months, as they are primarily nocturnal. Armadillos are the only mammals that have a protective armour, with bands around its midsection to allow it flexibility of movement for burrowing.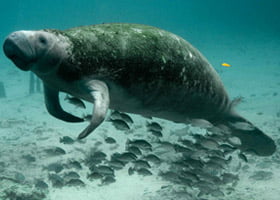 Manatees
Florida's state mammal, a large, aquatic relative to the elephant, also known as the 'sea cow' due to its docile manner and slow-moving nature. Despite their size, rarely do they swim deep in the water, and prefer to stay in shallow coastal coves and rivers. SeaWorld have their own manatees of which you can get up close to. Now classed as an 'endangered species', these animals spend most of their time feeding and resting.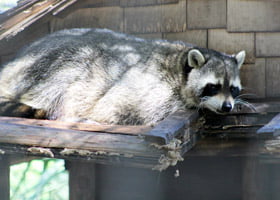 Racoons
Raccoons are a common nuisance animal in Florida. They tip over bins and rip into plastic bags in search of food. Raccoons are found almost everywhere there is water and shelter. Over time these animals have been urbanised and are frequently found around parks and homes. You are advised to not feed the raccoons as similarly to alligators, these animals will then associate humans with food and will become a problem. Most of the time they are harmless when left alone, please do not leave any food waste outside your villa to avoid a visit. The chances of a raccoon carrying rabies is extremely high, so please, at all costs, do not approach or feed them.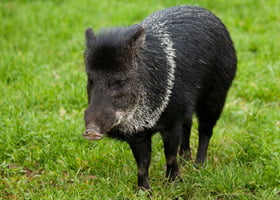 Wild Boars
Feral pigs also known as wild boars, these animals are known to cause serious damage to areas where you'll find bulbs, fruits and insects or anything edible for the pigs to feed on. As an unwanted visitor to Florida, the feral pig population is slowly on the rise, despite efforts to eliminate them. You may find them travelling in small groups or even alone. Feral pigs usually aren't dangerous and naturally fear humans.