Community Information
Properties on Glenbrook

Built in 2005, the popular Glenbrook community has 266 privately owned villas from 3 to 7 bedrooms, many of which have well-equipped games rooms, a private pool and spa, south or west-facing lake views and plenty of space for the whole family to relax in.

Facilities on Glenbrook

Glenbrook has a communal swimming pool area with plenty of sun loungers for guests to use. More energetic holiday makers might choose to meet up for a game of volleyball or tennis or pop inside the clubhouse for the fitness centre located there. Also provided in the clubhouse is a pool table, air hockey and table tennis, while a children's play area is provided for younger family members to enjoy and includes swings, climbing frame and a slide.

Where is Glenbrook?

Glenbrook is in Clermont, after travelling along the US192 (W Irlo Bronson Memorial Highway) turn right to travel north up US27 towards Clermont. A mile after driving past Walmart and Lowes stores at Cagans Crossings, turn right at Glenbrook Blvd, this is between a Walgreens pharmacy store and a CVS store.

How far is Glenbrook from Disney World, Universal and other attractions?

Approximate driving times to some of Florida's most popular attractions:

Animal Kingdom 20 - 25 Minutes
Magic Kingdom 25 - 30 Minutes
Epcot 25 - 30 Minutes
Hollywood Studios 30 - 35 Minutes
Universal (including Volcano Bay) 35 - 40 Minutes
SeaWorld 30 - 35 Minutes
Discovery Cove 30 - 35 Minutes

The US192 is where you will also find Orlando's newest water park, Island H2o Live! which is just 15 - 20 Minutes away and Kissimmee Old Town, with its Fun Spot attractions at just a 20 - 25 Minutes drive from here.

Attractions on International Drive, including Ripley's, Wonderworks and Fun Spot America amusement park can be reached in about 35 - 40 Minutes.

The I-4 highway is nearby, meaning Busch Gardens is 70 - 75 Minutes away driving east towards Tampa and Kennedy Space Center is 70 - 75 Minutes away to the west. Florida's award-winning beaches, including Clearwater, Cocoa, Daytona and Siesta Key, can all be reached in as little as 100 - 105 Minutes from here.

How far is Glenbrook from the airport?

The nearest airport is Orlando International which is 40 - 45 Minutes away, Sanford is 65 - 70 Minutes away and Tampa International is 75 - 80 Minutes away, The furthest away airport is Miami International which is 230 - 235 Minutes away.

Nearest shops to Glenbrook

Glenbrook is positioned midway between a large 24hr Walmart store at Cagans Crossing and a Publix supermarket north on the US27, both of these can be reached within a few minutes. For other shopping requirements you could head to Posner Park, 11 miles south on the US27, or Rolling Oaks Commons, 6 miles along the nearby US192. Bargain hunters looking for big names should head to Premium Outlets (Exit 68 on the I-4) which will take about 30 minutes to reach.

Nearest restaurants to Glenbrook

Within a mile or so of Glenbrook you will find a Hurricanes restaurant, a couple of take-aways and a few independent restaurants within the Cagans Crossing area. Alternatively head north up the US27 towards Clermont for a good selection of family restaurants with shorter waiting times than those of similar restaurants along the US192 which is a couple of miles south down the US27.

Nearest golf courses to Glenbrook

Central Florida is renowned for it's number of golf courses, both public and private, to suit all styles and abilities so you can be sure that whichever community you stay on, there will always be a golf course nearby. The nearest course to Glenbrook is Legends Country club just a few miles north up the US27 or you could head for the 3 courses at Orange Lake just along the US192.

Communities closest to Glenbrook

Glenbrook is next to Sunrise Lakes and a mile or so away from the community of Greater Groves.

Communities similar to Glenbrook

If you cannot find the perfect villa on Glenbrook then why not take a look at these communities: Bridgewater Crossing, Four Corners, Greater Groves, Indian Point, Indian Ridge, Indian Ridge Oaks, Loma Vista, Sunrise Lakes.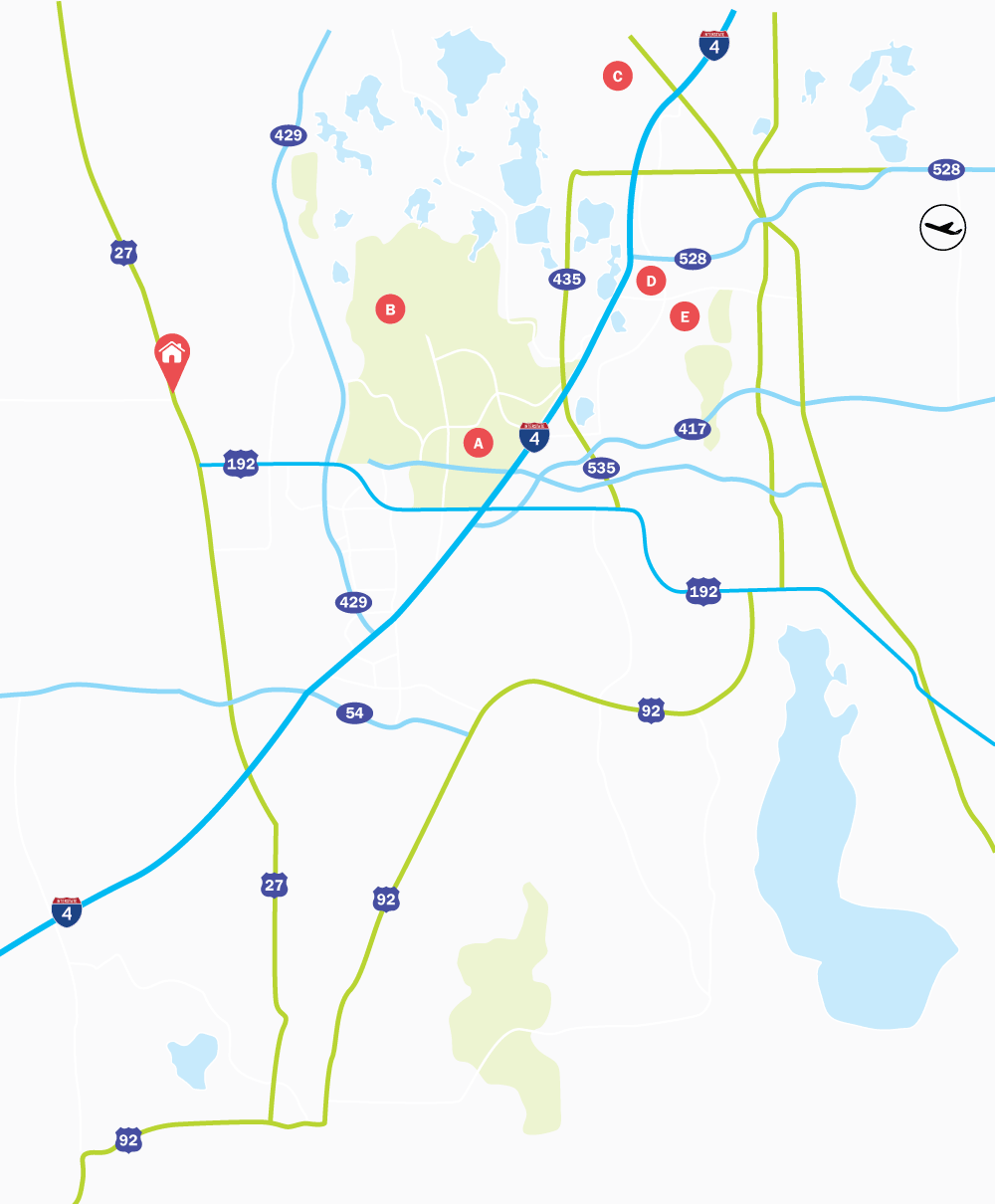 Map Key
Epcot
Magic Kingdom
Universal Studios
Sea World
Discovery Cove