Community Information
Properties on Highlands Reserve

Highlands Reserve is a well-maintained community built in 2000. Many of the 900 privately owned villas, ranging in size from 3 bedrooms to 6 bedrooms, back out on to the manicured greens and tree-lined fairways of the award-winning golf course or are situated on peaceful streets with very little traffic. Many of our villas have their own pool and spa and the more popular villas have a games room as well to help keep younger family members entertained while you relax in the sunshine.

Facilities on Highlands Reserve

Guests staying on Highlands Reserve can use the community facilities free of charge including the outdoor swimming pool, tennis court and children's play area with swings, slides and climbing frames. Should you wish to play a round of golf or use the driving range then the helpful staff in the club shop will be able to assist you, a separate fee is payable at the time though. It is a good idea to book your rounds up early though, because this course is very popular with tourists and local residents. The golf club also has a café bar serving beer, soft drinks, snacks and ice cream, a perfect rest spot if you are strolling through the community enjoying the sunshine.

Where is Highlands Reserve?

Highlands Reserve is in Davenport, it is on the US27, approximately 3 miles south of the US192 (W Irlo Bronson Highway) and 5 miles north of the I-4 Highway.

How far is Highlands Reserve from Disney World, Universal and other attractions?

Approximate driving times to some of Florida's most popular attractions:

Animal Kingdom 20 - 25 Minutes
Magic Kingdom 20 - 25 Minutes
Epcot 20 - 25 Minutes
Hollywood Studios 25 - 30 Minutes
Universal (including Volcano Bay) 30 - 35 Minutes
SeaWorld 25 - 30 Minutes
Discovery Cove 25 - 30 Minutes

The US192 is where you will also find Orlando's newest water park, Island H2o Live! which is just 10 - 15 Minutes away and Kissimmee Old Town, with its Fun Spot attractions at just a 20 - 25 Minutes drive from here.

Attractions on International Drive, including Ripley's, Wonderworks and Fun Spot America amusement park can be reached in about 30 - 35 Minutes.

The I-4 highway is nearby, meaning Busch Gardens is 60 - 65 Minutes away driving east towards Tampa and Kennedy Space Center is 65 - 70 Minutes away to the west. Florida's award-winning beaches, including Clearwater, Cocoa, Daytona and Siesta Key, can all be reached in as little as 95 - 100 Minutes from here.

How far is Highlands Reserve from the airport?

The nearest airport is Orlando International which is 35 - 40 Minutes away, Tampa International and Sanford airports are both 60 - 65 Minutes away, The furthest away airport is Miami International which is 225 - 230 Minutes away.

Nearest shops to Highlands Reserve

The nearest supermarket to Highlands Reserve is the Publix store at Berry Town Center which is less than a mile away. For retail therapy or bargain hunting then head to either Posner Park, an outdoor shopping mall, which is 15 minutes drive down the US27 or the shops at Rolling Oaks Commons and Sunset Walk along the US192 which can be reached in about the same length of time. The nearest Premium Outlets is at exit 68 on the I-4 Highway which is less than 30 minutes drive from here.

Nearest restaurants to Highlands Reserve

Highlands Reserve is next to Berry Town Center which has an Applebees family restaurant and an iHop, as well as a few other independent restaurants and take-aways to choose from including a British bar offering regular entertainment including quiz nights and karaoke as well as great Fish and Chips! For a greater selection, head north on the US27 for a couple of miles and take the US192 turning, here you will find hundreds of popular American restaurants suitable for all tastes and budgets ready to tempt your taste buds.

Nearest golf courses to Highlands Reserve

Central Florida is renowned for it's number of golf courses, both public and private, to suit all styles and abilities. The public course here at Highlands Reserve is a very popular choice but if you want to try an alternative course then head for the nearby ChampionsGate.

Communities closest to Highlands Reserve

Highlands Reserve sits between Hampton Lakes and Westridge in one direction and Legacy Park in the other.

Communities similar to Highlands Reserve

If it's a golfing community you want to stay on and you cannot find a suitable villa on Highlands Reserve why not take a look at these other golfing communities: ChampionsGate, Providence Golf & Country Club, Reunion, Ridgewood Lakes, Southern Dunes. Other non-golfing communities that are similar to Highlands Reserve include Bella Toscana, Calabay Parc, Crescent Lakes, Cumbrian Lakes, Hampton Lakes, Indian Creek, Laurel Estates, Marbella North, Orange Tree.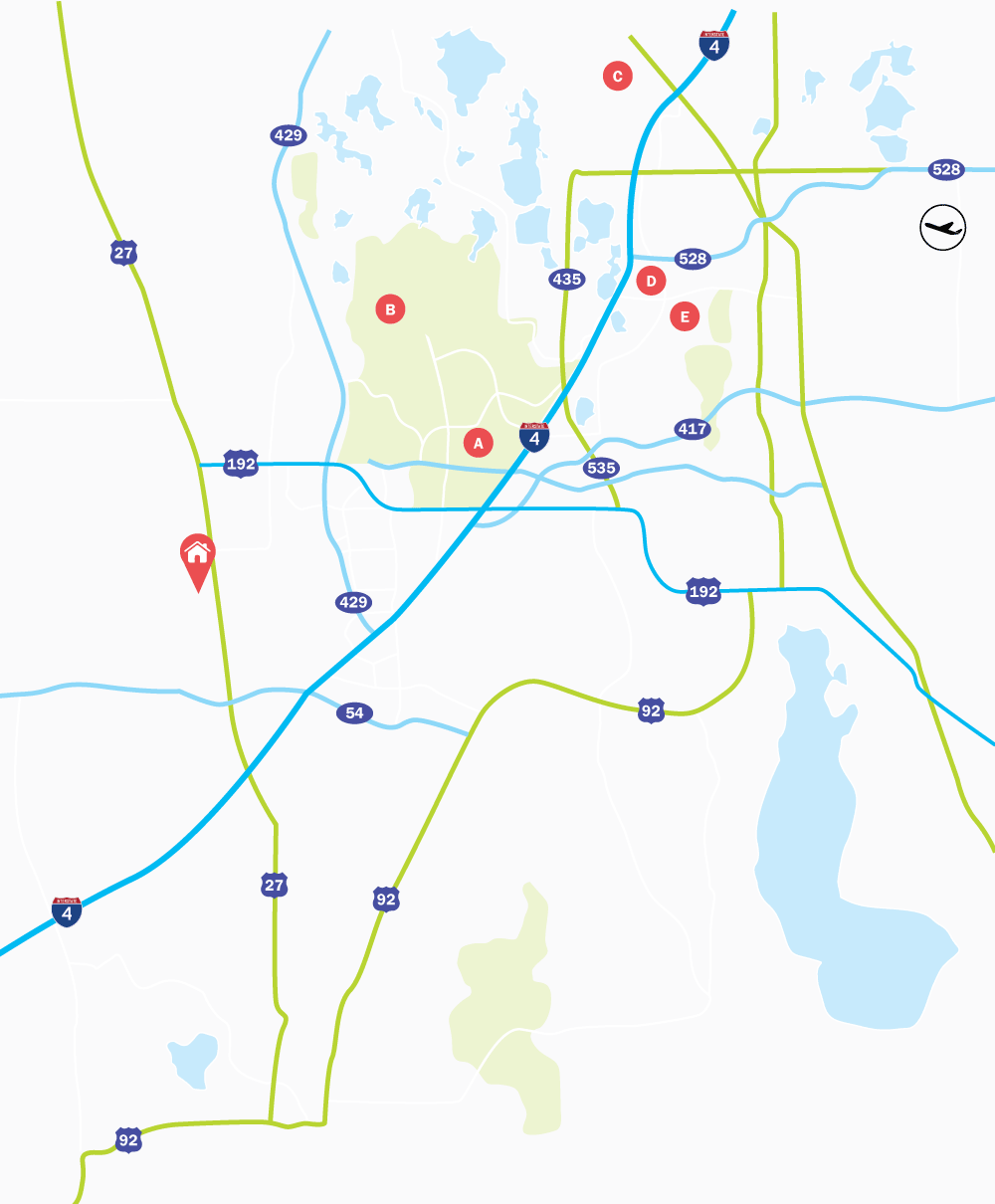 Map Key
Epcot
Magic Kingdom
Universal Studios
Sea World
Discovery Cove